Apple and Google, two of the world's leading technology giants, have enjoyed a symbiotic, if not amicable relationship. Tensions certainly exist ? most notably with competition over smart phones and patent infringements; however, their products often complement each other. For example, Apple?s mobile devices (iPhone and iPad) and Google?s voice recognition software share a mutually beneficial relationship (coincidentally, I am writing this blog using my phone and voice).
The current symbiotic relationship is most notable in the Mobile-Cloud-Office (MCO) arena. MCO computing is becoming more important as people desire to use their smartphones and tablets (M) seamlessly with their online document editors (CO). Thankfully, Google has made some much needed adjustments to their mobile version of Google Docs, something that should please iPad and other mobile device users.
Google has made sizable strides in making their mobile versions of Docs user-friendly, accessible, and well rounded. Here are some of the updates:
Converting Photos to Text
The Android version (sorry Apple lovers) allows you to turn your mobile device into a mini OCR (Optical Character Recognition) machine. This means that you can snap a picture of anything with legible text and the app will convert it to editable text.
File Sharing
Regardless of your platform or device, mobile Google Docs makes it easy to share. In a few simple steps, you can choose to email your document as an attachment or share the document with other collaborators and viewers.
Cloud Printing
If you have a cloud enabled printer you can print on-demand, wirelessly from your mobile device.
Text and Spreadsheet Editing Updates
Desktop editing options have improved, but are not perfect. They do, however, provide a relatively decent experience editing documents on a mobile device.
?All four of these options/tools reveal a promising future for both Google and mobile devices, most notably, the iPad. And if the two continue to play nice, you and I may find ourselves MCO-ing from anywhere!
Google Docs on a Mobile Device: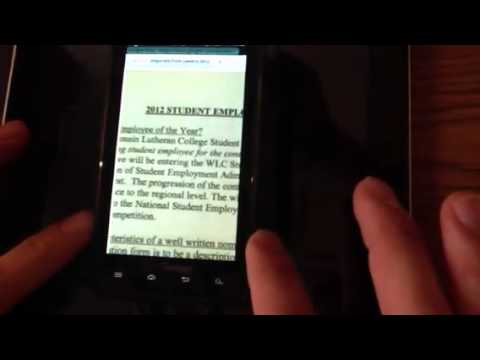 Written by: Prof. Joe Du Fore ? Director of Digital Education?
Posted in: Instructional Technology, iPad in Education